To know me is to know that I baby my hair. Since growing it out during covid, I have become obsessed with finding and trying tons of hair accessories on the market searching for ways to style my hair without stressing the strands to keep the ends as healthy as possible.
TL;DR
Kitsch is a women-owned business committed to creating high quality products- and they don't disappoint. You can shop their products here and here.
The MVP
I have dozens of Kitsch products including their satin sleep bonnet, butterfly clips, satin scrunchies and satin pillow cases. They have ingenious products to help you style your hair that are so easy to use anyone can create a beautiful look. My absolute favorite lazy-girl hair style is their heatless curling set. If you haven't tried this viral hack yet, consider this is your sign to give your hair a break from heat.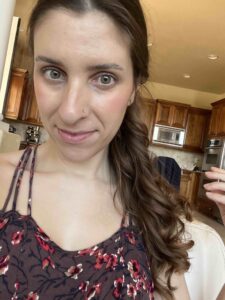 This is the ultimate lazy girl way to curl your hair especially if like me you grew up using sponge curlers after your shower to wake up with ringlets in the morning.
My how-to guide
My favorite way to use this is to first wrap the front section of hair around a large curler and use a clip to secure in place on the top of my head. This will help with volume later. I then thread the flexible satin rod (yay for no tugging on my precious hair/ends) and wrap section by section down the rod until I run out of hair. I then secure the ends with a satin scrunchie (included) and repeat on the other side. Once both sides are done, I then tie both rod ends together behind my head using a single satin scrunchie and let it do it's thing.
Tips I've learned through trial and error
Use on damp hair. Not soaking wet and not bone dry. You need some moisture on your strands to ensure that the curls hold. I like to use this sometimes on dry hair by spraying it down with salt spray first for texture.
This is a great opportunity to load your hair up with leave-in conditioner. I usually spray down the sides just to help encourage my hair to cooperate with me later and avoid frizz.
I recommend using a salt spray if you have fine textured hair like me and could use a texture boost for beauty waves. Keep in mind this will also make your hair more tangle prone so it's best to save the salt spray for the day before your next wash, or at least try to avoid brushing and combing since you'll likely snap and snag your hair a bit more than usual.
Leave-in place until hair is dry and then at least 1 hour longer. Sometimes I sleep with this on and other days I wake-up and start this while I'm getting ready for the day. By the time I leave the house it's been in for a couple of hours and removing the rod leaves me with perfect curls.
Have you tried a heatless curling rod or other viral air drying hair hacks? Try this one and let me know what you think in the comments below!
Don't forget to use this link to shop